Other technologies
Driver Extended Eyes
For the first time ever, a guidance system has been introduced to increase the safety of machines, with a specific focus on high-powered and large models, reducing accidents caused by lack of visibility in vehicle blind spots. The system is based on a series of cameras, and not only actively detects the presence of people in the tractor's blind spot, but also broadens the driver's view to the left and to the right.
Automatic PTO speed change
A pto gear unit that can be switched under-load has been realized for the first time.
Depending on the engine load, switching takes place automatically between nominal pto shaft speed and eco shaft speed.
This is of particular benefit where conditions of use change frequently and it expands the spectrum of the eco pto shaft applications considerably – instabilities in operation are avoided.
Automatic trailer hitch coupling
Equipment with camera-based environmental recognition system for controlling tractor movements.
The cameras identify the position of the hook of a certain tool with respect to the tractor and the control system determines the best path for the coupling and performs all the necessary movements automatically.
The proposed solution improves operation, operator comfort and safety conditions.
Ecoprotect
This new "Ecoprotect" crop sprayer is designed to meet future environmental requirements and delivers a high quality process with no waste. It is efficient and enables significant savings on spraying products.
Air from the sprayer turbine causes flexible modules to swell and become stiff, forming two flexible casings enveloping the vine. The base of the casing is hermetically sealed and contains a filter to catch the spray and direct it to a recycling mechanism. In order to increase the effectiveness of the system and limit product waste, the space between the two casings is closed by a "film" of air forming a barrier and thereby enclosing the treatment zone. A treatment "bubble" is created where the concentration of the product is increased, speeding up the process; the particles of the product in suspension are recovered, filtered and reused, thereby decreasing consumption of the product. The process remains enclosed, resulting in less pollution and fewer risks to the user and the environment. Once the modules have swollen, they remain relatively flexible, limit breakages and are kinder to the vines.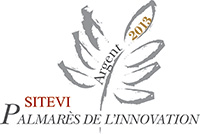 Hydraulic engine brake concept
By contrast with a conventional engine brake, the braking effect is achieved by choking the oil flows of the working hydraulics and at the same time closing the electronic visco coupling of the fan. This increases the braking action and ensures cooling of the heated hydraulic oil.
Altogether, in conjunction with a 3.6 l diesel engine, the system achieves a higher braking effect than with the 4.1 l predecessor model that used a conventional engine brake. For safety reasons the braking effect is limited depending on the steering angle.