Back
SDF JOINS SDA BOCCONI TO TRAIN MANAGERS IN THE AGRICULTURAL SECTOR
SDF is a sponsor and promoter of the Agribusiness Management Development Program offered by the SDA Bocconi School of Management. The course will last 13 months commencing 25th November 2016.
The programme, designed for entrepreneurs and aspiring agricultural entrepreneurs, aims to provide solid tools for the efficient organisation, management and development of an agricultural business. Dynamic companies will improve their managerial skills and be better prepared for the increasingly competitive agricultural market.
SDA Bocconi School of Management has been the gold standard for managerial training for over 40 years. The course offered by the school will include both classroom teaching and the latest interactive teaching modules, which take place at companies that are part of the agribusiness supply chain. The goal is to help participants foster and maintain a professional network with companies in the sector, encouraging cooperation along the supply chain, which is now more than ever the key to earning a relevant spot on the market.
By sponsoring the course, SDF is making a tangible effort to provide support for the agricultural entrepreneurs of tomorrow with focused training that benefits the entire agrifood sector.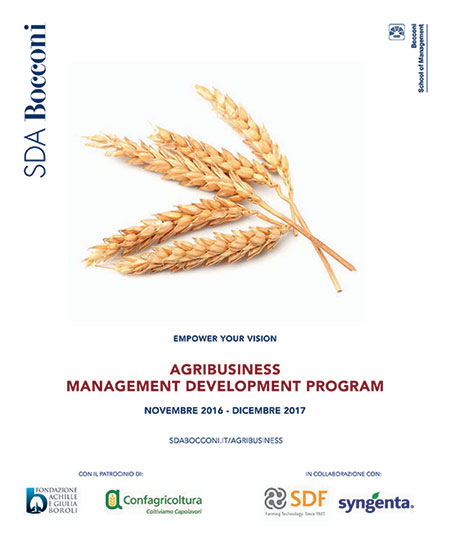 For more information
www.sdabocconi.it/agribusiness